Steganos Daten-Safe
Persönliche Daten gehen Unbefugte nichts an. Ein Motto, das seit jeher gilt und besonders in den letzten Jahren online immer mehr an Bedeutung gewinnt. Immer mehr halten wir uns in der digitalen Welt auf. Wir laden Dateien auf Portalen und unseren Accounts hoch, laden Bilder für Inspiration und wichtige Dokumente für Recherche herunter. Der tägliche Datenaustausch ist immens und so gewinnt auch der Datenschutz im Netz stetig an Bedeutung.
Was früher in Ordnern, in Akten oder in Archiven abgelegt wurde, findet mittlerweile einen Platz als Dateien auf dem PC, Laptop oder Smartphone. Wer dauerhaft und an vielen verschiedenen, teils öffentlichen, Orten mit dem Internet verbunden ist, riskiert allerdings auch ungewollten Datenklau. Ähnlich, wie es bei haptischen Wertgegenständen beispielsweise im Hotel oder dem Feriendomizil der Fall sein kann. Sicher verwahren Sie Ihre Wertgegenstände dort in einem Safe? Dann sollten Sie es auch im digitalen Bereich mit Dokumenten, personenbezogenen Unterlagen oder Bankdaten genauso handhaben.
Einige speichern ihre sensiblen Daten auch lieber zur Sicherheit auf Datenträgern, wie USB-Sticks oder Festplatten. Versehentliches Löschen kann dadurch als Backup zwar vermieden werden, doch sobald der Datenträger an ein Gerät mit Internetverbindung angeschlossen wird, ist Datenklau und Spionage wieder möglich.
Mit dem Steganos Daten-Safe können Sie im Handumdrehen einen digitalen Datensafe einrichten und sämtliche Unterlagen dort sicher verwahren. Dank einer hochsicheren Verschlüsselung und einer Zwei-Faktor-Authentifizierung Ihrer verschiedenen Safes haben Diebe und Schnüffler keinerlei Zugriff. Nur Sie selbst können auf Ihre archivierten Unterlagen zugreifen. Sicherheit, so wie sie sein sollte.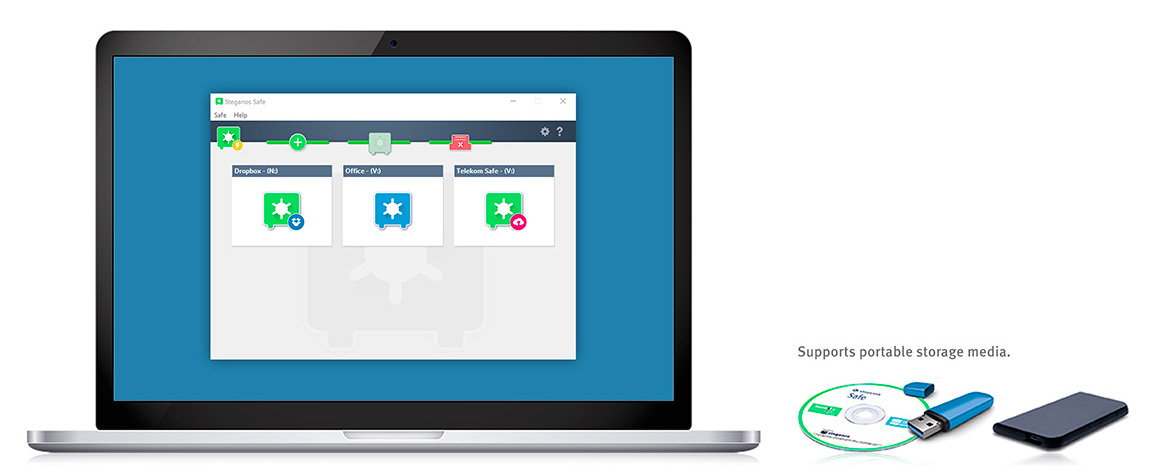 Features

New password quality indicator

Design selection now with preview

New "Modern Medium" design

Set up an emergency password for your surviving dependents if desired

New Backup Helper

Steganos Shredder integration

High-security 384-bit AES-XEX encryption (IEEE P1619) with AES-NI hardware acceleration for optimal protection against thieves, snoops and intelligence agencies

Create safes up to 2 TB (2,048 GB) in size

Opened safe seamlessly integrates as a drive in Windows and can be used from any program

Easily set up safes in your home network

Two-factor authentication for your safes (supports e.g. Authy, Microsoft Authenticator or Google Authenticator)

Supports encryption in Dropbox, Microsoft OneDrive, Google Drive and MagentaCLOUD
Securely encrypt sensitive data
Access stored safes on PCs, in networks, and in the cloud
Confidential documents, business records and TAN lists belong in a safe place. If you are not careful, you risk data misuse and thus dangers to your privacy. The Steganos® Data Safe™ is your digital safe and protects everything that is not intended for the eyes of third parties. The safe simply integrates as a drive into the Windows operating system and enables secure access from a wide range of devices.
Steganos Data Safe can also securely store encrypted documents in various cloud services. Thanks to the clear user interface, usage is simple and intuitive. Users can ensure effective protection of all personal data and documents with little effort thanks to Steganos Data Safe. Everything is accessible to you. You can manage, destroy, archive your files. Decryption by a third party? Impossible.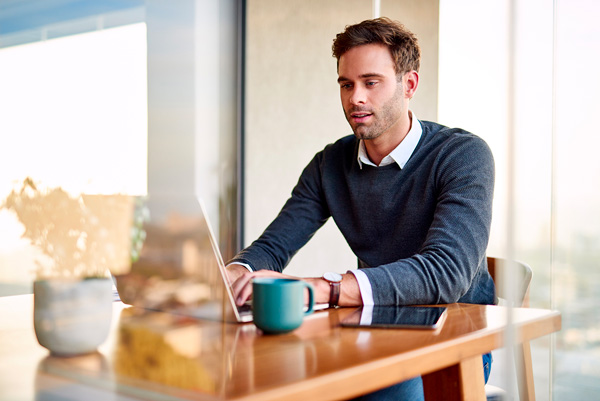 State-of-the-art encryption technology for personal data
Protect yourself and your data at the touch of a button
You do not always have time to take care of every little detail yourself. This is exactly why Steganos Data Safe offers maximum data security in the blink of an eye. With just the push of a button, Steganos® Data Safe™ protects sensitive data of all kinds on PCs, in networks or in the cloud. Using state-of-the-art 384-bit AES-XEX encryption with AES-NI hardware acceleration, you ensure effective data protection and prevent access by unauthorized persons.
Steganos has stood for reliable protection against data snoops and hackers for over 25 years. Since the company was founded, the encryption in Steganos programs has been uncracked. The electronic data safe ensures optimal storage and safekeeping of your digital documents and data archives. There are no backdoors, master passwords or duplicate keys.
FAQ and useful information
Which files should be encrypted?
In short, all data that should not fall into the hands of unauthorized persons. This includes personal documents, account details and TAN lists, as well as invoices and other financial data. But also work-related content that is stored locally, such as customer data or invoices. Caution. If you are careless, you risk data abuse by hackers and snoops without realizing it.
How is data protected by encryption?
During encryption, data is automatically encoded in such a way that it can no longer be read by third parties. Plain text is translated into cipher text. Only those who can authenticate themselves as the owner of the data with a password can access the original data and documents. So you alone hold the key to your data.
Why should I encrypt data?
At the latest since the introduction of the GDPR, data protection has become an important topic not only within the legal framework. Due to the significant increase in work from home, the topic of data encryption has become an international trend, in private life as well as in companies. Since the increase in work from home due to the Corona crisis, attacks by hackers and data snoops on private computers have increased dramatically. This is also because many users store their data unencrypted on their computers. As the amount of digital data continues to increase, it should always be encrypted in the best possible way.
Can encrypted data be hacked?
No. The highly secure 384-bit AES-XEX encryption (IEEE P1619) with AES-NI hardware acceleration used by Steganos Data Safe keeps your data safe from hackers. No matter whether on PCs, in networks or in the cloud.