What is the Steganos Privacy Suite?
With Steganos Privacy Suite, users enjoy comprehensive protection of their digital privacy - without having to install multiple security programs. The Steganos Privacy Suite is the digital safe for all confidential data and offers sustainable, uncompromising protection against threats of all kinds. Backing up the user's data and blocking unauthorized access through secure encryption is one of the tasks of the security package. In addition, the integrated password manager provides users with a complete package for creating a digital keychain. An all-round solution for secure navigation through the digital world.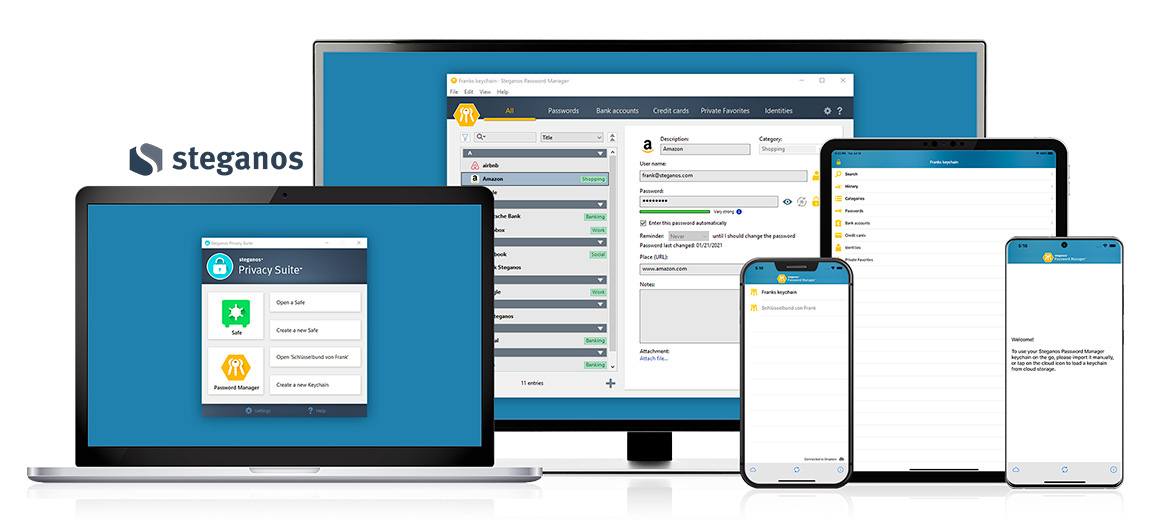 Why do I need security software?
As an all-round security package, Steganos Privacy Suite protects you from unauthorized access by third parties. Your data and passwords remain protected and your PC can function perfectly. A secure digital environment is the key to a good surfing experience, whether for leisure or at work. The need for good security software has also been confirmed time and again due to high levels of cybercrime. Crime on the Internet affects one in two people. So protect yourself with the right security software for you!
What our customers say
CF
C. Fischer

Great range of services, very clear and easy to handle.
SJ
S. Jung

Password managers and safes are an important tool for personal data and are easy to use.
NL
Norbert L.

I have been using this software for many years and am still very satisfied.
Easy on your wallet:
A real price-performance champion
With our annual subscription model for Steganos Privacy Suite you receive numerous unbeatable advantages:

✓ Security for your passwords
✓ Encryption of your private data
✓ Regular updates
✓ No additional costs
✓ Security made in Germany

What are you waiting for: Save $10 permanently now!
$49.99 $39.99
No bait pricing! Price remains the same every year.